• Anlagestrategie von Cathie Wood seit einigen Monaten wenig erfolgreich
• Gesamtperformance des ARKK schlechter als viele US-Indizes im gleichen Zeitraum
• ARK Innovation ETF dennoch mit Netto-Mittelzuflüssen
Cathie Wood begeisterte Anleger im Jahr 2020 mit ihrem ARK Innovation ETF (ARKK) und seiner Jahresperformance von 145,8 Prozent, die ihresgleichen suchte. Ihre Stock-Picking-Strategie, bei der sie vor allem auf disruptive Technologien und Innovationen setzt, machte die Gründerin von ARK Invest berühmt und brachte ihr sogar den Ruf als "beste Investorin der Welt" ein. Doch heute ist von dem einstigen Erfolg nicht mehr viel übrig. Trieb die Geldflut der Fed damals noch spekulative Investitionen wie die von Wood an, so sorgen der geldpolitische Wandel mit steigenden Zinsen und das inflationäre Umfeld nun dafür, dass Anleger aus hochpreisigen Wachstumsaktien fliehen. Anziehende Zinsen beeinflussen vor allem die Bewertungen der Tech-Aktien negativ und Sorgen um ein abflachendes Wirtschaftswachstum lassen zudem die Lust auf Börsen-Spekulationen sinken. Das bekommt auch Cathie Wood mit ihren Wetten auf neue Technologien zu spüren: Seit dem Allzeithoch bei 157,91 US-Dollar im Februar 2021 ist der Kurs des ARK Innovation ETF um rund 74 Prozent auf zuletzt 41,17 US-Dollar gefallen (Stand: Schlusskurs vom 18.05.2022) - auch die einst marktschlagende Rendite ist damit Geschichte.
US-Indizes mit besserer Performance als ARK Innovation ETF
Seit dem Frühjahr 2021 sind Woods Anlagen unter die Räder gekommen - mit erstaunlichen Konsequenzen: Die Gesamtrendite des Flaggschiff ARK Innovation ETF (ARKK), der einst andere Anlagen locker outperformte, ist nun schlechter als die des breiten US-Techindex NASDAQ Composite. Der ARKK startete am 31. Oktober 2014 an der Börse mit einem Kurs von 20,42 US-Dollar und konnte seitdem um rund 102 Prozent zulegen. Der NASDAQ Composite eröffnete am 31. Oktober 2014 bei 4.639,45 Punkten und stieg seitdem um rund 158 Prozent. Der NASDAQ 100 legte in dieser Zeit sogar um rund 201 Prozent zu. Auch der marktbreite S&P 500 kann mit einem Performanceplus von rund 104 Prozent seit 31. Oktober 2014 gut mit dem ARKK mithalten. Der S&P Total Return, der Dividendenzahlungen und Bezugsrechtserlöse berücksichtigt, stieg im gleichen Zeitraum sogar um rund 127 Prozent (Stand: Schlusskurse vom 18.05.2022). Auch bei der annualisierten 5-Jahres-Rendite - ein Zeitraum, den Cathie Wood oft als ihren Investmenthorizont angab - schneidet ARKK laut "The Street" nun schlechter ab als der S&P 500.
Für Anleger heißt das, sie wären trotz des extrem starken Jahrs 2020 mit einem ETF auf einen der genannten US-Indizes besser dran gewesen als mit einem Investment in den ARK Innovation ETF - zumal auch die Gebühren dort niedriger ausgefallen wären. Für Cathie Wood dürfte dies eine besonders bittere Niederlage sein, da sie erst kürzlich gegen passives Investieren schoss. Auf Twitter ging die Investorin in mehreren Tweets hart mit passiven Indexfonds ins Gericht und bezeichnete die Verlagerung hin zu passiven Fonds unter anderem als "massive Fehlallokation von Kapital".
In my view, history will deem the accelerated shift toward passive funds during the last 20 years as a massive misallocation of capital.

- Cathie Wood (@CathieDWood) May 4, 2022
Wood bleibt bei ihrer Strategie - und Anleger bleiben bei Wood
Doch obwohl der ARK Innovation ETF seit Jahresbeginn mehr als 56 Prozent verloren hat, hält Cathie Wood weiter an ihrer Strategie fest und bekräftigte laut "Bloomberg", dass die Weltwirtschaft aktuell die größte technologische Transformation der Geschichte erlebe, was viel Potenzial für einige ihrer Investments berge. Die Anleger scheinen das ähnlich zu sehen und bleiben trotz der jüngsten Durststrecke loyal gegenüber Wood. So verzeichnete der ARKK laut "Bloomberg" im aktuellen Jahr netto bislang Zuflüsse. Laut "Cash.ch" flossen dem Flaggschiff-Fonds allein an einem einzigen Tag Anfang Mai 366,7 Millionen US-Dollar zu - der größte Zufluss seit einem Jahr - und zwar obwohl der Fonds im April mit einem Minus von 29 Prozent seine schlechteste Monatsperformance bislang verbuchen musste.
Laut Athanasios Psarofagis, einem ETF-Analysten bei Bloomberg Intelligence, seien die jüngsten Mittelzuflüsse auf die Buy-the-Dip-Mentalität zurückzuführen. "Die Stimmung gegenüber ARKK und Aktien im allgemeinen war sehr pessimistisch. Ich glaube, dass die Anleger denken, dass die Kurse niedrig genug sind, um wieder einzusteigen. Wenn vielleicht nur eine kurze Weile", zitiert "Cash.ch" den Experten. Ob dies die richtige Entscheidung ist oder ob Anleger lieber doch auf einen ETF auf S&P 500, NASDAQ Composite & Co. hätten setzen sollen, wird die Zukunft zeigen.
Redaktion finanzen.at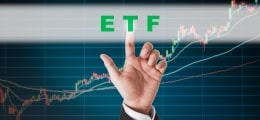 Der finanzen.at Ratgeber für ETFs!
Wenn Sie mehr über das Thema ETFs erfahren wollen, finden Sie in unserem Ratgeber viele interessante Artikel dazu!

Jetzt informieren!
Weitere Links:
Bildquelle: Cindy Ord/Getty Images for Bloomberg Businessweek,viewimage / Shutterstock.com